Dentist in Woodbridge, VA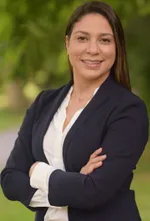 Occoquan Smiles
Dr. Katerina Cespedes is a motivated and patient focused professional with a solid formation in didactic dental education, as well as a broad and diverse clinical experience in properly diagnosing, treating, and
creating the appropriate clinical success for her patients. She is passionate in building long lasting relationships and is always concerned about patients' and their families', oral health needs.


Dr. Cespedes grew up in Santiago, Dominican Republic, where she graduated dental school with honors. Following her graduation, she moved to New York City to further her education in dentistry. She
attended Columbia University College of Dental medicine where she completed a two-year residency program at NY Presbyterian hospital. Dr. Cespedes is fluent in both English and Spanish, with
great interpersonal
skills and bedside manners.


Dr. Cespedes is fully trained and qualified providing comprehensive oral care to patients of all ages. She is committed to provide the best dental care tailored to each individual need, in a calm, friendly and
comfortable environment. In her free time Dr. Cespedes enjoys traveling, running, biking and hiking. She also feels strongly about giving back and helping the underserved and has participated in various dental outreach programs in the Dominican Republic.


We are confident you will be in excellent hands when treated by either Dr. Cespedes or any of our other providers.