About Our Woodbridge, VA Dental Practice
At Occoquan Smiles Family and Cosmetic Dentistry, we see it as our mission to help you enjoy your natural teeth for a lifetime. Like you, we believe that a healthy mouth and a beautiful smile contribute greatly to a happy life. Naturally, those who seek our services desire to attain and maintain the ability to smile attractively, to chew comfortably, to be healthy "forever", and to provide their children with these same benefits.
When you come to Occoquan Smiles Family and Cosmetic Dentistry, you come to a team of dental health practitioners dedicated to helping you achieve your optimal dental health and smile. To help you achieve your optimal dental health, you are in the driver's seat. Every treatment plan we suggest takes into consideration your current condition, lifestyle and family health history.
Dental therapies are continually evolving and at Occoquan Smiles we are dedicated to offering you the most effective and comfortable procedures. The best endorsement for our comfortable care is the word of mouth from thousands of satisfied patients. We are looking forward to help you enjoy a lifetime of good dental health!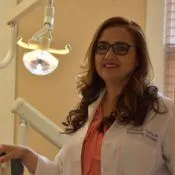 OUR MISSION
We believe that everyone can have a healthy smiles! and with our help it's easier than you think! We are passionate about helping patients to have the healthy smiles they deserve.
- Dr. Aicha Lyazidi – General Dentist
Why Choose Us?
What makes us different from other dental clinics
Our clinic is unique and distinctive because we incorporate skill, experience, and technology under one roof.
The work of our highly competent doctors of varying disciplines of dentistry, coupled with the use of the latest equipment and technologies ensures that each patient is treated like royalty.
Our goal is to set them on the path for a lifetime of exceptional dental and oral health.