Posts for tag: crowns
By Occoquan Smiles
October 05, 2021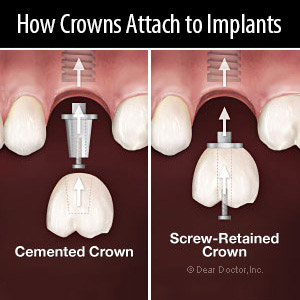 If you've decided on a dental implant to replace a missing tooth, you've made a great choice. Implants are a big favorite of both dentists and patients, not only for their life-likeness, but also their durability. Studies show that more than 95% of implants survive after ten years.
As you may know, single tooth implants are composed of two main parts: a metal post (usually titanium) imbedded in the jawbone; and a life-like crown affixed to the end of the post. But what you may not know is that there are two ways to attach the crown—either with screws or with dental cement.
Neither way is superior to the other—both have their own set of advantages and disadvantages. A cemented crown, for instance, usually looks more like a natural tooth than a screw-retained crown (more about that later) and dentists have more flexibility in making them look natural.
But cemented crowns require an additional piece of hardware called an abutment to better match it with the implant, something unnecessary with a screw-retained crown. Some people can also experience a reaction to the cement resulting in inflammation or even bone loss. And once installed, removing the crown later for repair or replacement is much more difficult than with a screw-retained crown.
Besides attaching directly to the implant, screw-retained crowns don't require cement and are more easily attached and removed. But the screw-hole can pose some aesthetic problems: Although it can be filled with a tooth-colored filling, the tooth's appearance isn't as ideal as a cemented crown.
So, which one is best for you? That will depend on the type and location of teeth being replaced, as well as your dentist's preferences. For instance, a more attractive cemented crown may be better for a visible front tooth, while a screw-retained crown might be a good choice for a back premolar or molar where appearance isn't as big a factor.
In the end, it's likely your dentist will discuss the pros and cons for each method as it pertains to your individual case. Whichever way your crown attaches, the end result will still be a life-like tooth that could last you for years to come.
If you would like more information on dental implants, please contact us or schedule an appointment for a consultation. You can also learn more about this topic by reading the Dear Doctor magazine article "How Crowns Attach to Implants."
By Occoquan Smiles
May 09, 2020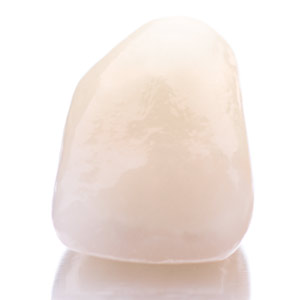 Today's crowns, the visible part of a tooth replacement system, can effectively mimic the shape and color of natural teeth. But not all crowns are equal — so it's best to be well-informed before you undergo a restoration on your natural teeth such as a single crown or bridgework — or if you need a crown on a dental implant that replaces a missing tooth.
To give you a starting point, here are 3 things to keep in mind about crowns as you consider a dental restoration.
Material composition. Most crowns in years past were made of a precious metal, most notably gold. What it lacked in appearance, it made up for in performance and durability. In recent years, dental porcelain has become the popular choice because of its ability to mimic the appearance and translucent color of natural teeth. Today's porcelains are much stronger and are used more frequently for back teeth than in years past. A common recommendation for back teeth is a hybrid crown using metal and porcelain. Metal is incorporated beneath the porcelain in this type of crown to create a strong foundation and is also used along biting surfaces for strength. Porcelain is used in the more visible areas for esthetics.
The dental technician's level of artistry. Most dentists sub-contract crown fabrication to dental laboratory technicians who may have varying levels of experience and artistic ability. A highly skilled technician can produce a crown that blends seamlessly with the patient's remaining natural teeth.
Take a "test drive" of your future smile. Although we as dentists adhere to certain aesthetic principles, beauty is ultimately subjective — "in the eye of the beholder." The final product must meet your expectations and level of comfort. If available, then, consider wearing temporary "trial smile" crowns as a preview of your new smile while your permanent set is under construction. This allows you to "try out" your future smile ahead of time, so you can make recommendations and sign off on the final set before it's finished.
Undertaking any dental restoration is an important life step, both for your health and appearance. Being well-informed — especially about the crowns that you and others will see — will help you make wise choices that lead to a satisfying outcome.
If you would like more information on crowns, please contact us or schedule an appointment for a consultation.
By Occoquan Smiles
January 05, 2019
Dental crowns are an essential means for restoring damaged or unattractive teeth. A well-crafted crown not only functions well, it looks and blends seamlessly with the rest of the natural teeth.
Crowns are artificial caps that cover an entire visible tooth, often used for heavily decayed or damaged teeth or as added protection after a root canal treatment. Most crowns are produced by a dental lab, but some dentists are now creating them in-office with computer-based milling equipment. On the whole, the various crowns now available function adequately as teeth—but they can vary in their appearance quality.
In the early to mid 20th Century the all-metal crown was the standard; but while durable, it could be less than eye-pleasing. Although more life-like dental porcelain existed at the time, it tended to be brittle and could easily shatter under chewing stress.
Dentists then developed a crown that combined the strength of metal with the attractiveness of porcelain: the porcelain fused to metal or PFM crown. The PFM crown had a hollow, metal substructure that was cemented over the tooth. To this metal base was fused an outer shell of porcelain that gave the crown an attractive finish.
The PFM reigned as the most widely used crown until the mid 2000s. By then improved forms of porcelain reinforced with stronger materials like Lucite had made possible an all-ceramic crown. They're now the most common crown used today, beautifully life-like yet durable without the need for a metal base.
All-ceramics may be the most common type of crown installed today, but past favorites' metal and PFM are still available and sometimes used. So depending on the type and location of the tooth and your own expectations, there's a right crown for you.
However, not all crowns even among all-ceramic have the same level of aesthetic quality or cost—the more life-like, the more expensive. If you have dental insurance, your plan's benefits might be based on a utilitarian but less attractive crown. You may have to pay more out of pocket for the crown you and your dentist believe is best for you.
Whatever you choose, though, your modern dental crown will do an admirable, functional job. And it can certainly improve your natural tooth's appearance.
If you would like more information on dental restorations, please contact us or schedule an appointment for a consultation.