Posts for tag: cosmetic dentistry
By Occoquan Smiles
December 04, 2021

Instagram, America's humongous digital photo and video album, is chock-full of the silly, mundane, and poignant moments of people's everyday lives. That includes celebrities: Tom Hanks buying a used car; Ryan Reynolds sporting tiny sunglasses; Taylor Swift and Ed Sheeran taking a hike. And then there's former Olympic alpine skier, Lindsey Vonn—posting a video of her recent dental visit.
Winner of several World Cup competitions and the first woman to gain the gold for downhill racing at the 2010 Winter Olympics, Vonn broke her two front teeth during a—you guessed it—skiing competition a few years ago. This past September, she went to the dentist to update her restoration and gave her followers a fascinating firsthand look at dental bonding, a technique for repairing a chipped or broken tooth.
Although dental bonding has been around for decades, it's taken a leap forward in the last few years because of improvements in bonding material. A mixture of plastic and glass components, composite resins can produce a strong and durable result when bonded to teeth. To begin the technique, the tooth's surface is prepared so that the composite resin can better adhere. Along with an adhesive agent, the bonding material is applied as a paste, which makes it easier to shape and sculpt for the most realistic look. This is usually done layer by layer, with each individual layer hardened with a curing light.
The technique allows us not only to achieve the right tooth shape, but also to incorporate your natural tooth color. We can tint the composite resin as we work so that your restored tooth blends seamlessly with the rest of your natural teeth. The result: A "new" tooth that's both beautiful and natural-looking.
What's more, dental bonding is more affordable than veneers or crowns and can often be done in a single visit. You will, however, need to exercise care with your new restoration. Although highly durable, it can be damaged if you bite into something hard. You'll also need to watch foods and beverages like tea or coffee that can stain the dental material.
Even so, we can help you regain the smile you once had before you took your teeth skiing—Lindsey Vonn-style—or whatever you were doing that resulted in a "whoopsie." All it takes is a call for an appointment to start you on the path to a more attractive smile.
If you would like more information about cosmetic dental enhancements, please contact us or schedule a consultation. To learn more, read the Dear Doctor magazine articles "Repairing Chipped Teeth" and "Artistic Repair of Front Teeth With Composite Resin."
By Occoquan Smiles
June 22, 2020
Getting your teeth whitened professionally can be a life-changing experience. Whiter teeth are associated with youth, health, vitality and even your level of professionalism in the workplace. Your dentist have the ability to improve the appearance of your teeth by up to eight shades in one short visit. Explore the following FAQs about teeth whitening so that you can decide if this cosmetic treatment is right for you.
Why is Professional Teeth Whitening the Best Option?
Over the counter whitening products are convenient but problematic for a number of reasons. For one, they take a long time to show results (sometimes weeks or months), if they ever do. Whitening kits that come with trays are ill-fitting and uncomfortable to wear for extended periods of time. When you have your teeth whitened professionally, the treatment is finished within one day, in one appointment. There's no need to disrupt your schedule by wearing a tray every day and little to no concerns about irritation of the gums since the procedure will be handled by a skilled dentist.
Who Is a Candidate?
Any patient with generally good dental health may be a candidate for professional teeth whitening. Keep in mind that some patients aren't eligible for this treatment because they have stains that can't be cleared with whitening gels. This is the case when the stain is "intrinsic," which means the discoloration is at the inner layer of the tooth. You dentist can tell you if your teeth can be successfully whitened at your initial consultation.
What Will Happen at the Whitening Appointment?
Set aside at least an hour of your time for your teeth whitening appointment. You'll sit back in your chair as the dentist inserts a device to keep your lips separate from your teeth then applies the gel. You'll wait for anywhere between 60-90 minutes until the whitening effect has set in. Many patients choose to have this treatment performed on a lunch hour.
How Long Will the Teeth Stay White?
You can expect to enjoy your new whiter smile for about one to two years or longer. The length of time your smile will last depends on you and your dental habits. If you go back to eating the same foods and drinking the same beverages that stained your teeth in the past, the problem is likely to return more quickly. Use a straw, brush regularly and see your dentist for cleanings twice per year.

Contact Your Woodbridge, VA Dentists
You will be happy with the way that your smile looks after going to your dentist for a teeth whitening treatment. If you have more questions, call for an appointment today.
By Occoquan Smiles
August 28, 2018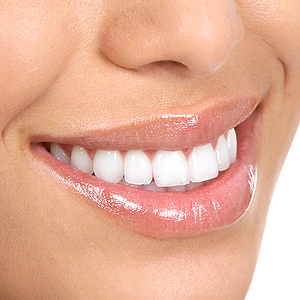 There are a lot of ways to improve the appearance of your teeth. Some methods can be quite involved like crowns or bridgework, which require extensive alteration of teeth to accommodate them.
Other methods, though, can achieve stunning results with less tooth reduction or alteration to your teeth. Porcelain veneers are one such alternative that literally puts a new face on your teeth. A dental veneer is a thin layer of restorative material (usually porcelain) that is bonded to the outside of a tooth to cover blemishes. They're an excellent choice for dealing with otherwise healthy teeth with mild to moderate chipping, wearing, staining or slight misalignment.
Veneers can be fashioned to match the shape and texture of the prepared tooth, as well as coloring that blends with neighboring teeth. They're created by skilled dental lab technicians who use porcelain powder mixed with water to create layers of pliable porcelain laminated together to achieve the appropriate thickness and shape. The veneer is then oven-fired to produce a strong, durable product.
Their use in various dental situations does require some tooth preparation, though normally not as much as other restorative measures — usually no more than 0.5 mm of surface enamel. Removing this small amount will ensure the veneer doesn't look too thick and bulky once bonded to the tooth.
There are some situations, though, where veneers aren't the best choice: because they're mainly a cosmetic solution, they can't remedy problems like poor tooth position and bite or large discrepancies in root position. And teeth that are heavily decayed may require more extensive dental work to repair and preserve them.
In the right situation, though, veneers can make a huge difference to your smile and last for years, as long as you practice effective oral hygiene and don't subject them to abnormal biting force (no cracking hard shell nuts with them — they can shatter). In skilled hands, veneers can transform your teeth from embarrassing to dazzling.
If you would like more information on porcelain veneers, please contact us or schedule an appointment for a consultation. You can also learn more about this topic by reading the Dear Doctor magazine article "Smile Design Enhanced with Porcelain Veneers."