Posts for: February, 2020
By Occoquan Smiles
February 19, 2020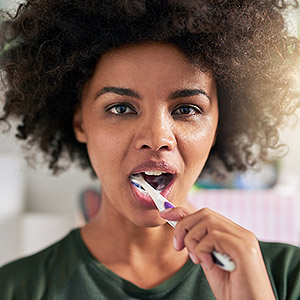 Five minutes a day: That's all it takes to do something that could change your life. It may not seem like a lot of time, but it's one of the most profound things you can do for your well-being.
So, what is this life-changing activity? Daily oral hygiene—good, old-fashioned brushing and flossing, just like your mom made you do. Along with regular dental visits, daily hygiene is crucial to keeping your teeth healthy. And healthy teeth are key to a healthy life.
Part of the magic is "showing up every day." The main driver for tooth decay and periodontal (gum) disease is dental plaque, a thin film of bacteria and food particles that accumulates on teeth. Clearing away this daily buildup with brushing and flossing drastically reduces the likelihood of disease.
The real advantage, though, is in brushing and flossing effectively. Plaque can cling stubbornly to teeth, especially around the gum line and other hard to reach surfaces. What's left behind interacts with saliva to form a hardened, calcified form called calculus (also known as tartar) that could increase your risk for disease. And it can't be removed by brushing and flossing.
You can minimize calculus formation with proper brushing and flossing techniques. When brushing, for instance, use a circular motion and make sure you brush all tooth surfaces, including around the gum line (a thorough job takes about two minutes). And avoid aggressive brushing—you could damage your gums. Be gentle while you brush and let the toothpaste and brush bristles do the heavy lifting.
Don't forget to floss to remove plaque from between teeth your brush can't access. Wrap the ends of about 18 inches of floss thread around the middle finger of each hand. Using a combination of your index fingers and thumbs to maneuver it, work the floss between the teeth and then snug it to the tooth surface. Go up and down the sides of each tooth a few times until you hear a squeak (this only happens with unwaxed floss). Move then to the remaining teeth until you're finished.
Focusing on these techniques will improve your ability to keep daily plaque accumulation low. And that means your teeth and gums have a better chance of staying disease-free and healthy.
If you would like more information on proper oral hygiene, please contact us or schedule an appointment for a consultation. You can also learn more about this topic by reading the Dear Doctor magazine article "Daily Oral Hygiene."
By Occoquan Smiles
February 09, 2020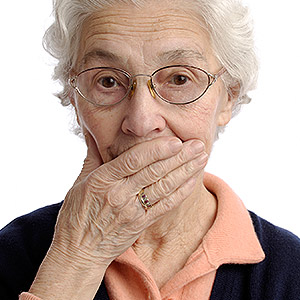 Today's technologically advanced dentures aren't your grandparents' "false teeth." Now made with superior materials and processes, you could almost forget you're wearing them. But don't let that cause you to leave them in for the night: While it may seem like a harmless thing to do, wearing dentures 24/7 may not be good for them or your health.
For one thing, around the clock denture wearing could worsen bone loss, already a concern with dentures and missing teeth. The forces generated when we chew on natural teeth stimulate new bone growth to replace older bone cells. When teeth go missing, though, so does this stimulus. Even the best dentures can't restore this stimulation, so bone loss remains a risk.
And, dentures can accelerate bone loss because of the added pressure they bring to the bony gum ridges that support them. Wearing them all the time deprives the gums of any rest, further speeding up the pace of bone loss. Losing bone volume not only affects your overall oral health, it will gradually loosen your dentures' fit and make them uncomfortable to wear.
Another problem: You may clean your dentures less frequently if you don't take them out at night. Lack of cleaning can encourage bacterial growth and lead to disease. Studies show that people who don't take their dentures out at night have more dental plaque accumulation, gum inflammation and higher blood counts of the protein interleukin 6, indicating the body is fighting infection.
And that's not just a problem for your mouth. Continuous denture wearing could make you twice as likely to develop life-threatening pneumonia as someone who routinely takes their dentures out.
These and other concerns make nightly denture removal a good practice for your health's sake. While they're out, it's also a good time to clean them: Manually brush them for best results (be sure you're only using regular soap or denture cleanser—toothpaste is too abrasive for them). You can then store them in clean water or a solution designed for dentures.
Having said all that, though, there may be one reason why wearing dentures at night might be beneficial—it may help prevent obstructive sleep apnea. If you have this condition, talk to your dentist about whether wearing your dentures at night has more advantages than disadvantages. And, if bone loss created by wearing dentures is a concern, it could be resolved by having implants support your dentures. Again, discuss this with your dentist.
Taking care of your dentures will help increase their life and fit, and protect your health. And part of that may be taking them out to give your gums a rest while you're resting.
If you would like more information on denture care, please contact us or schedule an appointment for a consultation. You can also learn more about this topic by reading the Dear Doctor magazine article "Sleeping in Dentures."