Posts for: April, 2018
By Occoquan Smiles
April 20, 2018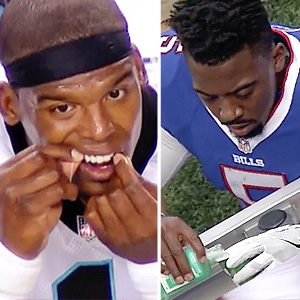 Everyone knows that in the game of football, quarterbacks are looked up to as team leaders. That's why we're so pleased to see some NFL QB's setting great examples of… wait for it… excellent oral hygiene.
First, at the 2016 season opener against the Broncos, Cam Newton of the Carolina Panthers was spotted on the bench; in his hands was a strand of dental floss. In between plays, the 2105 MVP was observed giving his hard-to-reach tooth surfaces a good cleaning with the floss.
Later, Buffalo Bills QB Tyrod Taylor was seen on the sideline of a game against the 49ers — with a bottle of mouthwash. Taylor took a swig, swished it around his mouth for a minute, and spit it out. Was he trying to make his breath fresher in the huddle when he called out plays?
Maybe… but in fact, a good mouthrinse can be much more than a short-lived breath freshener.
Cosmetic rinses can leave your breath with a minty taste or pleasant smell — but the sensation is only temporary. And while there's nothing wrong with having good-smelling breath, using a cosmetic mouthwash doesn't improve your oral hygiene — in fact, it can actually mask odors that may indicate a problem, such as tooth decay or gum disease.
Using a therapeutic mouthrinse, however, can actually enhance your oral health. Many commonly available therapeutic rinses contain anti-cariogenic (cavity-fighting) ingredients, such as fluoride; these can help prevent tooth decay and cavity formation by strengthening tooth enamel. Others contain antibacterial ingredients; these can help control the harmful oral bacteria found in plaque — the sticky film that can build up on your teeth in between cleanings. Some antibacterial mouthrinses are available over-the-counter, while others are prescription-only. When used along with brushing and flossing, they can reduce gum disease (gingivitis) and promote good oral health.
So why did Taylor rinse? His coach Rex Ryan later explained that he was cleaning out his mouth after a hard hit, which may have caused some bleeding. Ryan also noted, "He [Taylor] does have the best smelling breath in the league for any quarterback." The coach didn't explain how he knows that — but never mind. The takeaway is that a cosmetic rinse may be OK for a quick fix — but when it comes to good oral hygiene, using a therapeutic mouthrinse as a part of your daily routine (along with flossing and brushing) can really step up your game.
If you would like more information about mouthrinses and oral hygiene, contact us or schedule a consultation.
By Occoquan Smiles
April 10, 2018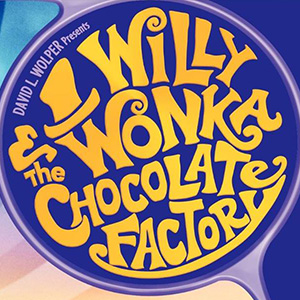 The classic movie Willie Wonka & the Chocolate Factory, starring Gene Wilder, still brings back sweet memories of childhood to people everywhere. Recently, the news broke that a remake of the beloved 1971 film is in now development in Hollywood. But at a reunion of the original cast members a few years ago, child star Denise Nickerson revealed that her role as gum-chewing Violet Beauregard caused a problem: she ended up with 13 cavities as a result of having to chew gum constantly during the filming!
It should come as no surprise that indulging in sugary treats can lead to cavities: The sugar in your diet feeds harmful bacteria that can cause tooth decay and other dental problems. Yet lots of kids (not to mention the child inside many adults) still crave the satisfaction that gum, candy and other sweets can bring. Is there any way to enjoy sweet treats and minimize the consequences to your oral health?
First, let's point out that there are lots of healthy alternatives to sugary snacks. Fresh vegetables, fruits and cheeses are delicious options that are far healthier for you and your kids. Presenting a variety of appealing choices—like colorful cut-up carrots, bite-sized cheese bits and luscious-looking fruits and berries can make it easier (and more fun) to eat healthy foods. And getting kids off the sugar habit is a great way to help them avoid many health problems in the future.
For those who enjoy chewing gum, sugarless gum is a good option. In fact, chewing sugarless gum increases the flow of healthful saliva in the mouth, which can help neutralize the bacteria-produced acids that cause cavities. Gums that have the ADA (American Dental Association) Seal of Acceptance have passed clinical tests for safety and effectiveness.
But if you do allow sugary snacks, there are still a few ways to minimize the potential damage. Restrict the consumption of sweets to around mealtimes, so the mouth isn't constantly inundated with sugar. Drink plenty of water to encourage saliva flow, and avoid sugary and acidic beverages like soda (even diet soda) and "sports" or "energy" drinks. Brush twice daily with fluoride toothpaste and floss once a day. And don't forget to visit our office regularly for routine checkups and cleanings. It's the best way to get a "golden ticket" to good oral health.
If you would like more information about sugar, cavities and oral health, please call our office to arrange a consultation. You can learn more in the Dear Doctor magazine articles "Nutrition & Oral Health" and "The Bitter Truth About Sugar."